Kubota R065 minilæsser
Kubota R065 minilæsser
– nye standarder er sat inden for minilæssere når det kommer til performance og komfort.
Når der er behov for større løftekapacitet.
Veltrimmet hydrauliksystem, som sikrer en behagelig betjening. Selvfølgelig er den udstyret med Kubota dieselmotor med partikelfilter.
Luksuskabine
High-visibility cabin All-new designed cabin features a fully enclosed glass to improve visibility in all directions. The full-glass left-side door and wide-opening rightside window provide clear views of the conditions outside. The rear of the cabin features rounded glass corners that, combined with the sloped bonnet, provide excellent visibility when reversing. Up front, a wide view and a redesigned Z-bar linkage configuration give you unobstructed views of the pallet fork tips from the driver's seat.
It's all-new, inside and out, and ready for any job you give it.
From Kubota, the well-know mini excavator brand, comes a new wheel loader designed get the job done faster and keep you working comfortably.
STRONG BREAKOUT
EXCELLENT STABILITY
LONG REACH AT THE MAXIMUM LIFTING HEIGHT
DIFFERENTIAL LOCK ON DEMAND
SPACIOUS AND COMFORTABLE CABIN
EASY TRANSPORTATION
MODERN DIGITAL DISPLAY
EASY MAINTENANCE
KUBOTA ANTITHEFT SYSTEM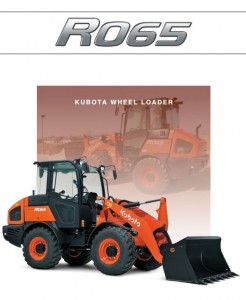 Specifikationer